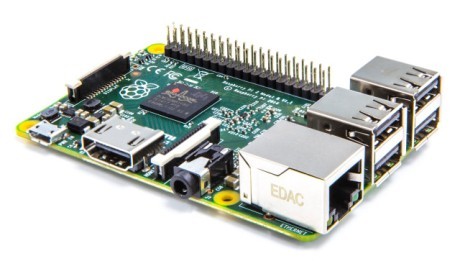 Jakarta
- Successor Raspberry Pi has been launched with better specs. Carrying the title Raspberry Pi 2, a small-sized computer is now embedded quad-core processor. The price is still very affordable.
Actually Raspberry Pi 2 still carrying the same form factor with the Raspberry Pi model B +. But this time pembesutnya add a USB port into 4 pieces. In addition, the processor also more capable with quad-core technology. The clock speed is also increased from which was only 700 MHz, 900 MHz boost so.
As for the storage sector, Raspberry Pi 2 micro SD slot is now thrusting replace the SD card slot that once offered the previous generation. GPIO pin number also increased in Raspberry Pi 2.
Another significant increase in attendance is the amount of RAM is increased to 1 GB. Raspberry Pi 2 processor now also rely on the ARM v7 design so that developers can be more flexible immerse OS that will be used.
Interestingly, with the specification that has been somewhat qualified it pembesutnya still offered at a price that is affordable
Here are the full specifications Raspberry Pi 2,
- SoC: Broadcom BCM2836 (CPU, GPU, DSP, SDRAM)
- CPU: 900 MHz quad-core ARM Cortex-A7 (ARMv7 instruction set)
- GPU: Broadcom VideoCore IV @ 250 MHz
- GPU info: OpenGL ES 2.0 (24 GFLOPS); 1080p30 MPEG-2 and VC-1 decoder (with license); 1080p30 H.264 / MPEG-4 AVC high profile decoder and encoder
- Memory: 1 GB (shared with the GPU)
- USB ports: 4
- Video input: 15-pin MIPI camera interface (CSI) connector
- Video output: HDMI, composite video (PAL and NTSC) via 3.5 mm jack
- Audio input: I�S
- Audio output: Analog via 3.5 mm jack; digital via HDMI and I�S
- Storage: MicroSD
- Network: 10 / 100Mbps Ethernet
- Peripherals: 17 GPIO plus specific functions, and HAT bus ID
- Power rating: 800 mA (4.0 W)
- Power source: 5V via MicroUSB or GPIO header
- Size: 85.60mm x 56.5mm
- Weight: 45g (1.6 oz)
Via Detikinet